A következő verset állítólag egy afrikai kisfiú írta, amit az ENSZ 2006-ban, vagy 2008-ban [a források más-más időpontot jelölnek meg] a legjobb versnek jelölt. Én Elter Csabi tumblr oldalán láttam meg először, és szerintem is van annyira jó és témába vágó, hogy itt is megosszam Veletek:
stripslashes(strstr(" target="_blank"","rel=") ? "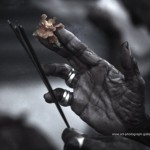 When I born, I black
When I grow up, I black
When I go in Sun, I black
When I scared, I black
When I sick, I black
And when I die, I still black.
And you white fellow
When you born, you pink
When you grow up, you white
When you go in sun, you red
When you cold, you blue
When you scared, you yellow
When you sick, you green
And when you die, you grey.
And you calling me colored?